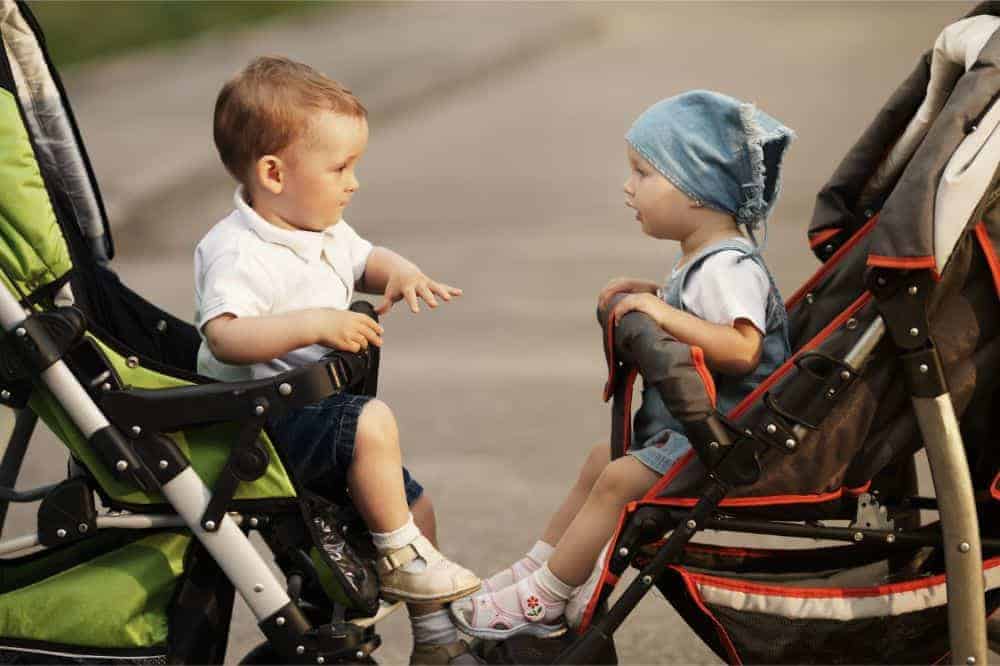 Babies come into our life with a whole new set of vocabulary and shopping lists. Yes, we understand that you want to provide your little one with the best things possible to make their growing phase more comfortable. In that case, the baby stroller will be a new addition to your shopping cart. 
Before we narrow down the best stroller, let's dig deep and understand what a baby stroller is and what are the key factors to be kept in mind to find the best stroller. 
What is a baby stroller?
A baby stroller is a vehicle fitted with wheels, to carry babies or young infants. It is hand-pushed.
Though it may sound simple, when you reach out to buy one, the details and specifications are as complex as that of any automobile. You will see yourself evaluating its suspension, control, safety standards, just to begin with.
Do not worry, we got you covered here. We will look into the key factors and best strollers that adhere to these facts.
Types of baby strollers:
There are different types of strollers available in the market. They vary in size, features, and price points. Let's take a look.
Full-size strollers
Full-size strollers come with a great space for storage. This one can be used over the years as your tiny tote grows taller and stronger, this design has the space to accommodate those growing legs. They help you travel with your baby.
Convertible strollers
Convertible is the best stroller if you are dealing with more than one baby at a time. It is a full-size stroller that has extra seating space to accommodate one or two more babies.
Umbrella Strollers
As the name suggests the key feature of this stroller is that it can be folded up like an umbrella. This lightweight option is mostly useful for parents who travel more. But the downfall is that, since the structure is lightweight in design it does not provide the best sturdiness to the stroller. It is also devoid of extra storage spaces.
Travel System
Travel systems are one of the best strollers that tackle multiple roles. These full-size strollers can also be attached to the car seat, often included as part of the seating. This type of stroller is also a good choice as it fits two roles in a single budget.
Reversible Strollers
Reversible strollers come with a unique feature of facing the baby inwards or outwards as per your preference. This works well because the same stroller can be used over a period of time. It is ideal to face the younger baby towards you and for toddlers, you can face them out in the world, as they tend to enjoy the scenery.
Jogging Strollers
This is the best stroller option for all the new parents who want to keep themselves fit. The jogging stroller allows you to take your little one out along with you for runs. It comes with increased stability and good shock absorption features.
However, this is not an option for babies below the age of six months.
Double strollers
The double stroller is a good choice if you are looking at a family with two children. It will help them to carry both the kids side by side. If the older ones are too old for a stroller, they can even use the ride-on board, where they can stand and push the stroller.
Now that we have looked at the various categories of strollers, with these guidelines let's find the best stroller for your baby.
Best Stroller Options:
Graco Modes Click Connect
Graco mode click connect is the best stroller for newborns as it comes with extra support and has various recline positions, leading to even almost flat positions. This stroller also comes with a reversible seat, a single handheld/push mechanism, and a lot of storage space. This stroller can hold weight up to 50 pounds
As the stroller comes with these many features, it is a bit bulky and heavier in size.
Summer Infant 3Dlite Convenience Stroller
This award-winning stroller is a sturdy lightweight stroller, apt for families that's always on the go. It comes with four recline options, a five-point safety harness, anti-shock front wheels, and lockable rear wheels. It also has plenty of storage space. The combination of lightweight and sturdiness makes it perfect even for rough terrain but a little bit difficult to fold.
This one works well for babies from 6 months and goes up to a weight limit of 50 pounds. The only thing we wish more about this stroller is that it had a bigger sun canopy.
Uppababy Vista V2
Uppababy Vista V2 is one of the best strollers in the convertible category. Though a bit pricey, this one comes with various features such as easy to fold, plenty of storage space, and seating space for up to three kids! For newborns, the bassinet is of high use and as they grow up the reversible seating option is of use.
Bob Gear Revo Flex 3.0 Jogging Stroller
This jogging stroller is one of the favorites for its high durability and the best suspension which is quite similar to the mountain bike systems. This will give you a super smooth ride even on tough terrains. The design has oversized tires and aluminum frames that add to the strength yet keep the structure away from being bulky.
With a weight limit of up to 75 pounds, this one can be quickly folded to nearly flat. The wheels are removable, hence while storing it away for a longer period, will help you make it more compact.
Nuna Demi Grow
Nuna Demi Grow is soon catching up on the list of best strollers for its unbelievable feature of 23 different seating positions! This one can also be modified as a double stroller to take care of two babies at the same time. The design focuses on distributing the weight to the back tires making it street-friendly.
The safety harness is designed with magnetic buckles that auto buckle. It also has a large range canopy with UPF+50 and breathable mesh seating making it an absolute favorite for the summer. Well, all these features do make this best stroller a bit heavy.
Final Thought
The best stroller for you depends totally on your lifestyle, family size, cost, and space. The reality of your day-to-day life must be considered the most while you chose the one for your baby. Is a baby stroller a must? Well, not really. But you will thank yourself if you decide to buy one.
FAQs
What is the general weight limit of baby strollers?
Baby strollers come in various sizes and designs, But in general, most of them can take up to 50 pounds of weight with ease.
Can infants be placed in baby strollers?
Strollers for infants come with specifications. Since they cannot sit up straight or hold their heads up, these strollers will have extra support features and multiple recline positions to support the baby.
What is the ideal age to introduce a general baby stroller?
The ideal age for general baby strollers is from the age of 3 months. At this point, they usually learn to hold their heads up. This will make them more comfortable in the stroller. For babies younger than that age, you must look out for specific strollers.
What is the importance of a baby stroller?
A baby stroller can make your life much easier, especially if you are planning to go outside with your baby. It relieves you from the task of having to carry them around. Most of the strollers available today can be even used as clip-on car seats. Their compact designs also make it travel-friendly.