It comes at no surprise that Dubai is a city home to some of the best water and amusement parks in the world.
Parks that have broken world records, each of them unique in their own way, have offered millions of visitors the time of their lives, and simply give the best waterpark experience ever.
Here is a list of some of the best water and amusement parks in Dubai.
Atlantis Aquaventure
Image source: Expedia
Atlantis Aquaventure water park defines water and amusement combined. Located on the man-made island, the Palm Jumeirah, Atlantis Aquaventure is the largest water park in Dubai.
Famous for its "Ziggurat" which is 30 meters high and has 7 different thrilling slides to choose from.
Another very famous ride is the "Leap of Faith" at a staggering 27.5 meters high, which sends visitors through a see-through tube at a very fast pace, finding themselves surrounded by sharks.
Crowned the third best water park in the world by Trip Advisor, Atlantis Aquaventure is a water park designed for the entire family.
Having over 30 different rides, with a ride for everyone, like the Splasher Kids' Area which has 14 different water slides for families with young adventurers. Families can also choose to surf on the Wave Rider attraction.
Families can also visit the shark lagoon and enter wearing a state of the art helmet, surrounding themselves by the breathtaking colorful sea creatures and sharks, an attraction for ages 10 and up.
After all the fun and adrenaline rush, there is no better way to relax than on the Aquaventure beach, a 500-meter-long private white sandy beach where visitors can enjoy the sun and various cocktails and drinks.
Let's not forget about the unique dining experience offered at Aquaventure with 2 food courts and the many outdoor kiosks available.
Ticket prices start at AED 200 for adults and AED 165 for those who's height is below 1.2 meters and if it's your birthday, then you're welcome in for free.
Truly one of the best water and amusement parks in Dubai and mind-blowing experiences is found at Atlantis Aquaventure Dubai.
Wild Wadi Park
Aerial view of the park (Image source: Wikipedia)
Another one of Dubai's best water parks, Wild Wadi Park is designed to give the perfect day experience for all members of the family. Wild Wadi is the first water park to be ISO certified. With a staff of over 41 nationalities, having all lifeguards licensed by Ellis and Associates, and Wild Wadi even organizes environmental clean ups.
A water park home to the Jumeirah Sceirah, the tallest and fastest waterslide in the middle east. What is for sure is that all members of the family will find the perfect ride for their age group.
Wild Wadi has a huge interactive baby and children section full of over 100 water activities such as water guns and climbing activities.
Wild Wadi is also home to the Breaker Bay, the biggest wave pool in the middle east giving visitors the opportunity to experience huge waves at impressive heights.
Open from Tuesday to Sunday from 10 AM till 6 PM and closed on Mondays, Wild Wadi Park is located on Jumeirah Road in Dubai. Ticket prices start at AED 145. Wild Wadi Park is truly one of the perfect water and amusement parks in Dubai.
Laguna Water Park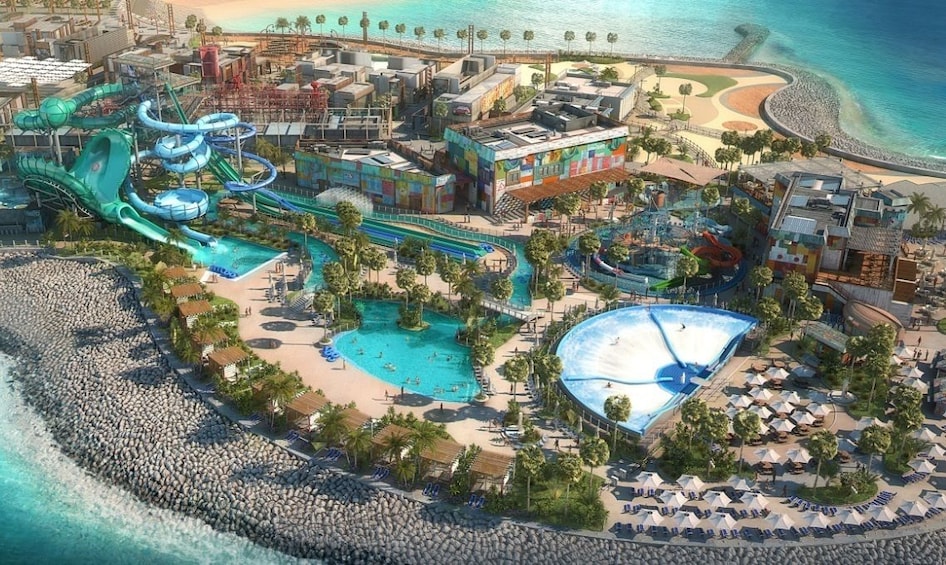 Laguna Water park in Dubai, UAE (Image source: Expedia)
Whether you want to experience some thrilling rides, spend the day with the family, or just sit back and relax, Laguna Water Park is the perfect destination for both thrill seekers and chill seekers.
Located in Dubai's beautiful La Mer and in between panoramic views of the sea and Dubai's breathtaking skyline, visitors are taken into a whole new world of excitement and relaxation.
For those seeking relaxation, Laguna water park gives you these perfect three options. First, there's the infinity pool which is a beautiful infinity edge pool and lounge where you could cool down and enjoy the sun.
Second, there's the cabanas where you could sit back in the shade and enjoy the sunset. Third, there's the lazy river where you could sit back and let the river take you through the beautiful oasis.
Related Post: Travel Guide: 6 Best Things To Do In Beijing As A Traveler
Moving onto slides, options for a very high thrill include The Constrictor, Free Fall, a ride described as only for those brave enough, Mad Racer, where visitors could race off and see who will end up victorious, and Manta, a family ride for a maximum of four people.
The Loop is a ride that offers medium thrill but is still very much enjoyable and full of surprises and pure excitement.
You might also like: 12 Places in Sri Lanka You Must Visit
The Splash Pad is the ride designed for toddlers and Aqua Play is designed for a child-parent experience. Wave Oz 180 is where visitors can enjoy surfing like never before.
Not to forget the unique dining experience also offered at the Laguna water park. A waterpark that is truly one of the best water and amusement parks in Dubai.
Legoland Water Park
Legoland Water Park, Dubai (Image Source: Trip Advisor)
Part of the bigger Legoland theme park, the Legoland water park is based on the LEGO movie and the LEGO toys and is truly the perfect family destination for water and amusement.
Related: Top 5 Trekking Destinations in Mumbai
A water park perfect for children with attractions such as the DUPLO Splash Safari with larger than life DUPLO characters and toddler size slides.
There's also the Joker Soaker, a fun and interactive water playground which is designed for the whole family with several slides that offer something for every family member.
Also read: High Altitude Lake Treks in India
A visitor favorite, the Lego Slide Racers where family and friends can challenge each other and take on the adrenaline rush of competition and slide down against each other in the 6 available mat slides and see who will be victorious in the end.
Red Rush is a slide for the whole family where they can slide down a 312-foot-long curving track on an 11-foot diameter half pipe.
What's guaranteed is an unforgettable experience for all at Lego Land Water Park, one of the best water and amusement parks in Dubai.